Decreases Die Casting Die Soldering and Galling
Recent studies, from 2006 and continuing into 2008 by various labs and organizations, have found that one of the many causes of soldering is due to the impingement of aluminum to the die steel. Soldering effectively weakens the steel. Other contributing factors are temperature, wettability, and metal velocity. To make a bad situation even worse, aluminum (Al) and iron (Fe) have a natural chemical affinity to one another because of their makeup and electron imbalance. When contacting each other, they want to form intermetallic compounds as shown in the photos below and drawings at the right. When the soldered area is removed, iron from the steel is also decreased and affected.
ThermaLLife forms a compound layer barrier that prevents the interaction of the aluminum (Al) with the iron (Fe) component of the tool steel. Thus the stages of destructive soldering are stopped before further damage to the tooling can occur.
| | | |
| --- | --- | --- |
| Stage | Description | Cause |
| I | Erosion of grain boundaries | Weak regions - cavitation |
| II | Pitting of die surface | Loose grain - cavitation |
| III | Formation of iron-aluminum compounds | Chemical - electron imbalance |
| IV | Formation of pyramid shapes | Rapid diffusion of iron |
| V | Adherence of Aluminum | Cracks in surface at pyramids |
| VI | Erosion pits | Cavitation loss of yield strength |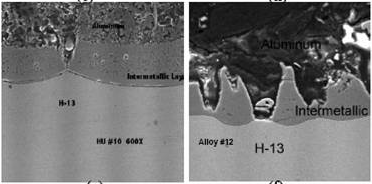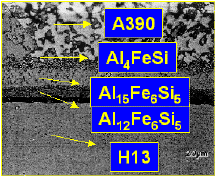 Intermetallic elements of soldering
Loss of the tool's protective surface or lubrication barrier between the die and cast molten metal allows the creation of intermetallic compounds that cause a chemical adhesion or soldering of the metal to the die's surface.
Related Topics > - Compression Benefits