More Uniform Diffusion and Compound Layer
+
Higher Nitrogen Levels
The structure of a diffusion zone is important. It must have uniformity with no cracks or porosity in the compound layer. Cracking in this zone can cause surface flaking to occur.
When MetaLLife is applied before ThermaLLife, any present porous structure is negated, plus a higher dislocation density is created that allows more niitrogen to be diffused into the steel's surface. The beneficial result of this is an increase in the fatigue strength of the steel.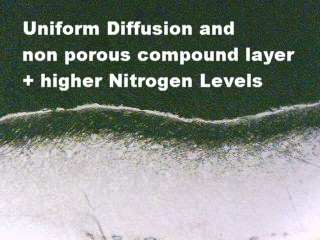 400x
In a recent Japanese study at Keio University, testing was done to confirm this. The complete report is available on our web site in the Resource section.
Photos taken using a Scanning Electron Microscope (SEM) show the difference between a standard nitrided and TooLLife like combination process surface. The photo at the right shows this comparison. The SEM photos (a) shows cracks and pores at the surface in the niitrided compound layer of the steel, while the TooLLife combination-like process (b) does not have these cracks or pores.
It was also observed in the report that, if compressive stress (MetaLLife) was applied before nitriding (ThermaLLife), the amount of diffusion of Nitrogren was increased (b - below). This concentration of diffusion zone increased the fatigue strength of the steel over that of either process alone. This is exactly what TooLLife accomplishes.
Related Topics > - Locks compression