Summary
Badger Metal Tech has a method for obtaining the synergistic benefits of both MetaLLife (MPCMP coupon) and ThermaLLife (FNC coupon) by effectively combining them. How to do this had been a dilemma.
Applying heat after MetaLLife relaxes compressive and tensile stresses. On the other hand, if MetaLLife was applied after ThermaLLife there was a concern that MetaLLife would destroy or remove the thin protective compound layer. This layer provides the barrier that prevents soldering in aluminum content molten metal for die casting dies. Examples of both sequences are shown at the right.
Specially prepared H-13 coupons of the first combination (MetaLLife + ThermaLLife) were submitted for X-ray diffraction measurements. The curves showed a significant beneficial value of compression, and depth still remained even after extended temperature and time were applied.
Further studies, both in the US and Japan, now confirm that MetaLLife helps lock in the grain boundary compressive stress benefit and allows a higher concentration of Nitrogen and Carbon to be diffused into the surface of the tool steel. The result is a compressive stress benefit that increases fatigue strength, buffers cavitation effect, and a compound layer that prevents soldering
All of the benefits of MetaLLife and ThermaLLife are combined in a synergistic manner to provide total TooLLife benefits.
Related Topics > - Diffusion Attributes

click photos to view larger image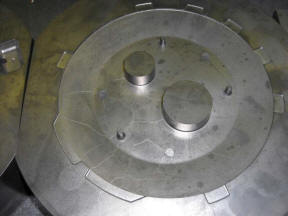 Used Die Before TooLLife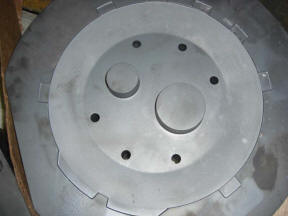 Same Die After TooLLife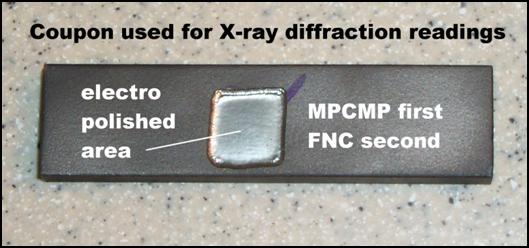 Test coupon from which compression readings were taken.